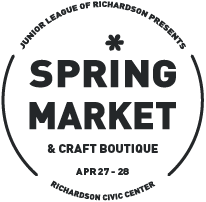 Junior League of Richardson Spring Market
April 27 – April 28, 2019
Event Hours:
Saturday: 9:00am – 6:00pm
Sunday: 10:00am – 4:00pm
Richardson Civic Center
411 W Arapaho Road, Richardson, TX 75080
Calling All Crafters
Are you an artisan, crafter, artist, or creative entrepreneur who seeks out unique opportunities to sell your products?
If so, then you are invited to apply as a vendor at the Junior League of Richardson's first ever Spring Market & Craft Boutique!
This exciting event will take place on April 27-28, 2019, at the Richardson Civic Center. As the Junior League's largest fundraiser of the year, we will be promoting Spring Market city-wide and expect several thousand in attendance.
But hurry! We are only selecting 68 vendors for this event, so click here for more information and apply today.
Thank you for your interest. We hope to see you there!
Want to be a Vendor?