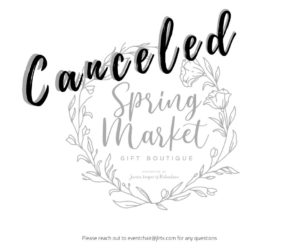 VENDOR FAQs
Who benefits from the Junior League of Richardson's Spring Market & Craft Boutique?  
The Junior League of Richardson (JLR) will use the funds raised at the Spring Market & Craft Boutique to support community programs in Richardson and the surrounding areas that have a direct impact on women and children in our community. It also allows us to provide financial support for the JLR and its mission to promote voluntarism, develop the potential of women and improve the community through the effective action and leadership of trained volunteers.
Where will this event be located?
The Spring Market will be held locally in Richardson at the Civic Center! The street address is:
Richardson Civic Center
411 W. Arapaho Road
Richardson, Texas 75080
What are the show hours? 
Saturday, March 28th: 9:00 A.M. – 5:00 P.M.
Sunday, March 29th: 10:00 A.M. – 4:00 P.M.
How can I help promote this event?
Please review the contents of your vendor packet for various assets you can use to promote Spring Market & Craft Boutique to your contacts, including event logos, social media graphics, a flyer and promotional language for social media posts and texts.
Feel free to "like" the Junior League of Richardson's Facebook page and share our existing Spring Market event with your network, and/or use the content and images provided to create your own post and/or temporarily use the images provided as your cover image or profile picture. You may post about the event on any social media platform. Try posting about the event in Facebook groups or on pages that might be interested. You can also post about Spring Market on Next Door, as well as any other community sites that allow posting.
Print and post the flyer to bulletin boards at work, coffee shops, or other places of business. Email it to family, friends and clients. Ask your church if you can include it in their bulletin. Post it anywhere you think people might be interested!
And don't forget word of mouth! Tell everyone you know to come visit your booth and support your business.
What percentage of my sales do I get to keep?
Vendors keep 100% of their sales!
When will booth assignments be sent?
The JLR Spring Market committee is currently working on booth placement. An email with your booth number and location will be sent by in February.
When can I set-up my booth?
Booths in the Grand Hall can set-up starting at 12:00 P.M. on Friday, March 27. Booth set-up in the Concourse must begin AFTER 5:30 P.M. on Friday. Set-up will conclude at 7:00 P.M. Saturday set-up is at 8:00 A.M.
Please note: All booths must be set and ready for customers by 8:30 A.M. on Saturday, March 28. Failure to set up booth by this time will result in a $250 penalty fee, unless prior agreement has been made with JLR Spring Market staff. Fire exits and City Hall office doors 101, 102, 103, 105, 106 and 108 may NOT be obstructed in any way throughout the entire length of the show. City employees must have access to the building and these doors at all times. There is to be no loading and unloading of equipment resulting in lane blockage at the East or West entrance of the building. Violators are subject to towing at owner's expense. Any equipment weighing more than 200 pounds must be moved in and out through the East loading dock or the West service entrance. Such equipment should never be moved through the main entrances of the building.
When is teardown?
Booths must remain intact until 4:00 P.M. on Sunday. All show equipment and trash must be removed from the building by 8:00 P.M. on Sunday.
Please note: There is a penalty of $500 to the Junior League of Richardson should you choose to dismantle and/or vacate the contracted booth space prior to Sunday, March 29 at 4:00 P.M. All trash must be swept and put in boxes or bags at the end of the show and placed in one central location. All major spills must be cleaned, and all tape must be removed from floors and tables. Fees may be assessed for cleanup and disposal of remaining items. The Richardson Civic Center will provide trash receptacles and liners.
How many booth staff can I have?
During show hours, each vendor can have a maximum of two staff per 8'x10′ booth.
Is there Wi-Fi inside the Richardson Civic Center?
Yes! The Civic Center has public Wi-Fi available. For a stronger connection, feel free to bring your personal hot spots. There are also charging stations in the hallways of the civic center, but the JLR is not responsible for lost or stolen electronics.
Is there an ATM on the premises?
No, there is not an ATM available. However, there are a few banks near the Civic Center.
Where can I grab a snack or drink? 
The Junior League of Richardson will provide coffee, bottled water and snacks for the vendors in the Richardson Room during show hours.
There are a variety of restaurants within a two mile radius of the civic center if you are needing to get a meal.
Can I decorate my booth?
Decorations are encouraged! All decorations must be flameproof and approved by a Civic Center event coordinator or manager. The use of masking tape is permitted in decorating. Nails, hooks, screws, tacks, staples, putty, double-sided tape and strong adhesive tape CANNOT be used on the interior or exterior walls, windows, doors, outside signs or furnishings of the facility.
If you would like to hang a banner on the back drape of your booth, you are allowed to do so. Please bring S hooks.
What comes with my vendor booth?
Each booth will have pipe and drape along with one (1) 6'x30″ table and two (2) chairs.
Linens and skirting are available for an extra cost. Please note that the table is bare and does not include linens unless you purchase ahead of time. The Civic Center does not provide ladders, extension cords, tape, pins, etc.
What if I need an extra table? 
Extra tables are available on a limited basis and will be complimentary if ordered by February 28. The table would be 6'x18" in size. To request an additional table, please email eventchair@jlrtx.com and include your company name and booth number in the request.
What if I ordered electricity for my booth?
If electricity was ordered at the time of booth confirmation and payment, the electrical outlet will be available at your booth. Please bring your own 12-gauge extension cords and be sure to have it marked with your company name.
Can I sell food or beverages?
If you are selling or sampling food, it must be packaged, commercially prepared and properly labeled. If you are offering unpackaged samples or preparing, slicing, chopping or reheating food at your booth, you must obtain a temporary special event food vendor permit from the City of Richardson. No alcohol will be present, served or consumed at this event.
Where should I park?
Vendors should park in the East parking lot of the Richardson Civic Center.
Overnight parking of motor homes, travel trailers or campers on city property is prohibited. Vehicles or trailers taking up multiple spaces in the South parking lot is prohibited. Parking in Council or Mayor space(s) is prohibited. Vendor parking in the Library lot is prohibited. Violators are subject to towing at owner's expense.
Where should I stay?
If you are needing to stay overnight in the area, please refer to the Richardson CVB website for available hotels near the Richardson Civic Center.