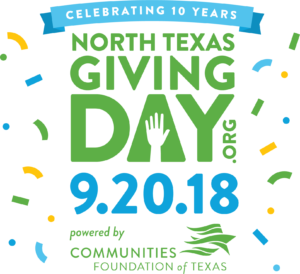 Communities Foundation of Texas' 10th Annual North Texas Giving Day will be Thursday, September 20, 2018!
North Texas Giving Day is powered by 
Communities Foundation of Texas
, a 65-year-old community foundation that has presented North Texas Giving Day since 2009. The foundation professionally manages more than 1,000 charitable funds for families, companies, foundations and nonprofits and has awarded more than $1.8 billion in grants since its founding in 1953.  To mark the 10th anniversary of Communities Foundation of Texas, donors have 10 days to schedule their North Texas Giving Day gifts starting September 10. Simply go to 
NorthTexasGivingDay.org
 between September 10 and September 19, and you will be able to schedule gifts to all your favorite nonprofits!
For more information or to donate on behalf of JLR please click here.